Discover more from tanjennts
Exploring the tangents that coffee creates: essays and stories in culture, freelancing, food, and more.
How to handle racism as a company
Black Lives Matter
Black. Lives. Matter.
Think that doesn't relate to coffee or marketing? Think again. I hope you've been paying attention to what's happening in the world and in coffee.
If you are new to this newsletter, welcome. I don't only talk about marketing because marketing does not exist in a vacuum.
In the last two weeks, we in the coffee industry have seen plenty of black squares, declarations, and conversely, rightful demands for more action. Words mean something but only when they're followed up by actions.
I am still recovering from dealing with La Marzocco last week. I am tired. But ICYMI, there was also Barista Hustle, Counter Culture, and much more.
How to handle racism as a company
Imagine that you had a friend who kept poking you with a stick. With every poke, a mark was left on your skin. Sometimes the mark disappears and other times, it remains present and scarred over. You tell them to stop. You ask why they're poking. You say it hurts.
They tell you that it's just a joke and they stop. They even say sorry and that they won't do it again. But they forget and occasionally poke you with the stick. And they watch their other friends poke you with a stick. Months or years later, you see them post a proclamation on how they believe stick poking is bad, that they've never done it, that they'll speak up when they see it.
Imagine reading that lie. The erasure of your experience and your voice. 
If you thought you were going to read a step-by-step guide on how to absolve yourself of racism in your company, you thought wrong. There are no easy steps, no hacks, no words you can write, and no amount of black squares you can post to declare yourself "free" from racism. It's a lifelong commitment to educating yourself on being anti-racist.
Change starts at the top. What your founders and leaders do or don't do trickle down. The things they say when they think no one is listening, the job applicants they turned down because they "weren't a good culture fit," the friends they hire and promote from within – these all get absorbed by the people around them.
It's easier to list things to not do than it is to do:
Do not deny and double down on how you're not racist

Do not write a statement of change and "shock" if you are not willing to claim any long-term actions

Do not post a black square and turn off the comments. You either shut up or you do the work, beginning with the comments.

Do not externally say you'll donate to a cause and then continue with business as usual

Do not read a few articles on systemic racism and believe you're all good

Do not center yourself in an apology. Learn how to apologize.

Do not ask your Black, Indigenous, POC employees to help in any anti-racism work or resources without extra compensation

Do not wait until you get publicly shamed for racism. By the time that happens, that person has been poked with the metaphorical stick and spoken up so many times, that this is their only route left.
The time of company platitudes and PR spins is over. Consumers are paying attention to what you say and more importantly, what you do. They're holding you accountable. 
There are very comprehensive resources (each word here is a resource link) out there. 
Do the work. Yes, it will be difficult. Yes, it will be uncomfortable. Yes, you will mess up.
However.
To quote Michelle, "Do better or be left behind."
C-Suite/HR/#DiversityandInclusion Leaders - If you condemned racism internally and/or externally last week, 👏🏿. Thank you. We needed you.

As you plan next steps, please resist the temptation to commit to all the things you *could* do. Now is the time to FOCUS. A thread./1
Quick text updates & links on what's new on the networks
Instagram is rolling out IGTV ads. It's testing a "Plans" sticker for organizing plans with friends and double-story stories feed. It also announced its 2020 features plan. The company issued a statement about how you'll need to ask the creator for permission before you embed their post onto your website.
Twitter is relaunching verification, native scheduling from its desktop app testing, and calling you out before you RT an article you didn't read.
Facebook added: option to switch between personal & business in Messenger. It's testing: integration of Messenger & Instagram DM and a new email marketing tool for Pages.
Helpful links on how to improve your digital marketing
How to Do Diverse and Inclusive Content Marketing That Matters
Cultivate a truly inclusive content marketing program that resonates with your audience and could become a differentiator
contentmarketinginstitute.com  •  Share
COVID-19 and Email Marketing: What to Do When Reopening Is on the Horizon
Some version of reopening is being tested worldwide, and email marketers are having to again rethink their pandemic-impacted marketing. What should our email approach be now?
www.marketingprofs.com  •  Share
How to Run Facebook Ads for Local Businesses: Driving Foot Traffic
Discover how to run Facebook ads with the Store Traffic objective to generate more business for your local business.
www.socialmediaexaminer.com  •  Share
Anything I've enjoyed reading recently
Bon Appétit's editor in chief just resigned — but staffers of color say there's a 'toxic' culture of microaggressions and exclusion that runs far deeper than one man
We spoke with 14 former and current Bon Appétit staffers and contributors about their experiences at both the magazine and its beloved Test Kitchen.
www.businessinsider.com  •  Share
Hiring a Chief Diversity Officer Won't Fix Your Racist Company Culture
Chief Diversity Officers are often brought in to respond to an existing problem, clean up an organization's image, or publicly signal a commitment to equity that does not exist.
U.S. Businesses Must Take Meaningful Action Against Racism
[HBR-GATED] Here's what leaders can do today.
An update from my container garden!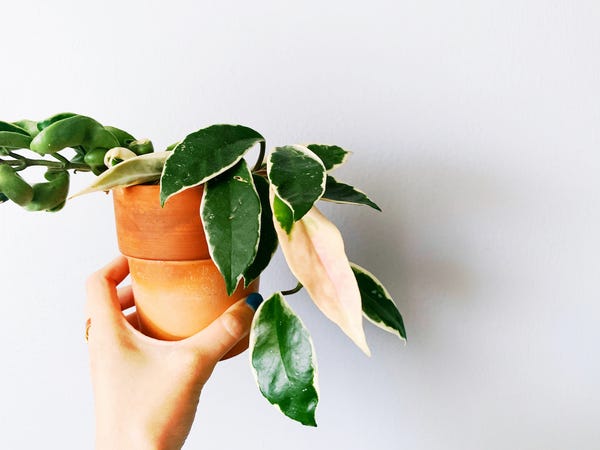 A beautiful, new, carnation pink-white leaf grew out of my Hoya krimson princess this past week. 😍

I'm doing free 15-min brainstorming session consults for coffee businesses/organizations affected by COVID-19!
What'd you think?
Feedback, questions, or fist bumps 👊 – send them my way by hitting the reply button. Also happy with the 👍 at the end. Or find me on the social networks @thejennchen.
This newsletter is free to subscribe to & takes several hours to put together each issue. If you've enjoyed or benefited from my work and would like to support me: donate to your local bail fund, forward to someone who would enjoy the newsletter, buy me a coffee, and/or Venmo/Cashapp me @thejennchen.
By Jenn Chen
This newsletter has now moved to thejennchen.substack.com - please sign up there!
💭 Thoughts on digital marketing as they intersect at specialty coffee, social media, writing, photography & social issues.
📬 2x a month on Wednesdays
🔗 @thejennchen | https://jennchen.com
In order to unsubscribe, click here.
If you were forwarded this newsletter and you like it, you can subscribe here.
Powered by Revue