Discover more from tanjennts
Exploring the tangents that coffee creates: essays and stories in culture, freelancing, food, and more.
Why I'm a marketing specialist & not a generalist
Choose one
I don't know what it is about this month. At the beginning of July, I lost my favorite necklace at the dog park and today, I broke my second favorite one (ceramic pendant). Thankfully, both are replaceable.
Over the weekend, I watched the season finale of Loki with a few friends. I can't believe the season was only six episodes! If you've been wondering about the photo dump trend on Instagram, here's a good piece on it.
Why I'm a marketing specialist & not a generalist
A few times a month, I receive work inquiries about consulting with a company that is not in the coffee industry. They've sometimes found me through my writing on Sprout Social or through a google search. Some have even read my note about taking on only specialty coffee coaching clients, referencing the note in their form, and yet still email thinking that I am the solution to their problems. 
I always say no. Why?
Being a marketing generalist just doesn't work for me. 
When you go into the consulting field, you have to make a million decisions. Two of them being who you want to work with and what services you can offer. The overlap between the two is your target clientele. 
I was employed part-time at an agency that specialized in hospitality clients while I was also working in coffee. I wanted to get that agency experience and the hospitality clients included hotels, hotel restaurants/bars, and hotel spas across the US. In the agency work, I had five clients located in three different cities, multiple social media profiles per client, and all three types of hospitality clients. It was very difficult to curate content because I had to think about what a diner in Cincinnati might be interested in while also thinking about what a tourist in Seattle might want for a spa service. Juggling the multiple industries & cities plus keeping up coffee was too overwhelming for me to manage.
According to the US Bureau of Labor Statistics, there are over 270k people employed as marketing managers. And that's marketing managers alone, not even adjacent fields like consultants, advertising marketers, or influencers/content creators.
Someone who consults in food and drink businesses is still pretty generalized. Do they work with single-location restaurants? Do they know how a franchise would market? What about the advertising setup of a bar vs a manufacturer of blenders? There are SO MANY options here and advice would (hopefully) be varied between all these clients.
In order for me to deliver the best advice for my coaching clients, I choose to be selective. I do not feel comfortable advising a manufacturer of dog food because while I do have a dog, I know nothing about the dog food industry and could not possibly provide tailored advice. Even for an adjacent industry company like a distillery, I wouldn't do. A) I don't drink alcohol and B) you've got to be familiar with alcohol-marketing laws.
This is all to say that when you are looking for a marketing consultant (I've written about this topic), I believe that their field of expertise matters. In both services and clients. You wouldn't want someone who knows email marketing to also design your website if that's not in their skill set. You might get tolerable results but you wouldn't get great ones unless you go to a website designer. 
So yes, I could technically advise a restaurant but my advice would only go so far. I'd rather you spend the money on someone else who could give you more tailored, industry-specific advice. But that's just me and I know there are consultants and social media managers who do generalized work. 
Quick text updates & links on what's new on the networks
Instagram added language translation inside stories, sensitive content control on the explore page, story drafts (for some users), and expanded Insights data to 60 days. The network is testing: an option to partner up on posts and reels, a re-share feed post sticker, and a comment-limiting feature.
Facebook is testing Facebook Pay as a payment option on websites (like Apple Pay & Shop Pay).
Twitter ended Fleets (their version of stories). It added the ability to restrict your audience replies after a tweet has been published. It's testing up/down voting for replies and a business profile.
In other network news, Clubhouse is now out of beta and open to everyone. YouTube is testing live-stream shopping.
Helpful links on how to improve your digital marketing
How to Find Instagram Influencers that Work for Your Business
Learning how to find Instagram influencers to work with is an art and a science—but finding the right one can make or break your campaign.
How to Build Successful Restaurant Landing Pages That Sell More Food
Wondering what's on the menu of a good restaurant landing page? Dig into these helpful tips to succeed in the digital landscape.
What's next for digital marketing in 2021 - 10 most notable trends
The digital revolution hasn't reached its peak yet! Are you keeping pace with the latest digital marketing trends? Find out 10 best trends…
Anything I've enjoyed reading recently
How to Say No to "Grabbing Coffee"
[HBR freemium content] Protect your time — without compromising your relationships.
Layer upon layer: uncovering the terrazzo treasures of the west and celebrating legacy floors
Australia's love and rediscovery of terrazzo floors form the foundation for a new exhibition.
Why are gas, groceries, and used cars prices going up? Things seem more expensive because they are.
You're not imagining it — many items are more expensive than they used to be. Some by a little, others by a lot. The US isn't in runaway inflation territory right now, but we're definitely seeing some unusually pricey consumer goods.
An update from my container garden!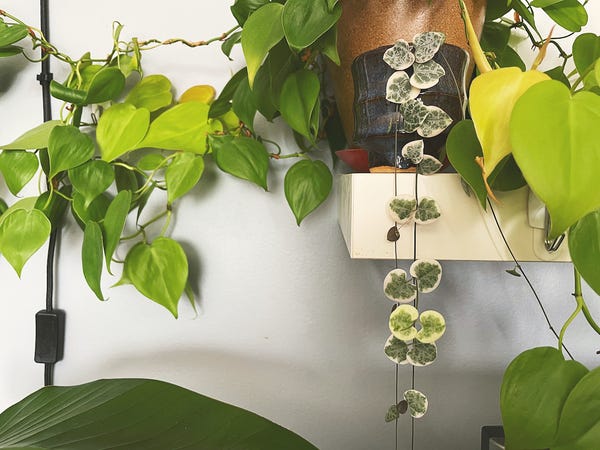 My variegated string of hearts is actually three times as long as what is shown in this photo.
What'd you think?
Feedback, questions, or fist bumps 👊 – send them my way by hitting the reply button. Also happy with the 👍 at the end. Or find me on the social networks @thejennchen.
This newsletter is free to subscribe to & takes several hours to put together each issue. If you've enjoyed or benefited from my work and would like to support me: donate to your *local bail fund*, forward to someone who would enjoy the newsletter, *buy me a coffee*, or *Venmo*/*Cashapp*/*PayPal* me @thejennchen.
By Jenn Chen
This newsletter has now moved to thejennchen.substack.com - please sign up there!
💭 Thoughts on digital marketing as they intersect at specialty coffee, social media, writing, photography & social issues.
📬 2x a month on Wednesdays
🔗 @thejennchen | https://jennchen.com
In order to unsubscribe, click here.
If you were forwarded this newsletter and you like it, you can subscribe here.
Powered by Revue