Basics: Planning your marketing for SCA Expo
I'm back from Kansas City USCC with a full heart of love for my coffee friends, old and new. I'm still a little tired but it's full steam ahead for Expo in 3 weeks (!!!).

Featuring my own work & press
Today's topic in this section is about marketing for a conference (*cough SCA Expo cough*). Whether you are attending as a individual professional, a coffee company, sponsor, or exhibitor, the basic marketing tenets are the same. And planning is your friend.
Goals: Set goals for attending. What do you want to tell your followers? Do you want to share what you're learning from the classes or do you want to share about new products? It's not an either/or situation but make sure you know what you want to convey online.
Plan it out: Expo is ridiculously overwhelming. Write out your "can't miss" items and then your "maybe I can go" items. If you are repping a company, be sure to include all the classes & guest roasting spots you'll be at. This seems like basic knowledge but if you don't write it down, you'll forget in the moment.
Make those templates: Depending on how in-depth you want to go on your marketing, start creating your promotional templates now. Get those Instagram covers ready, write out your social media text, and plan ahead so you don't find yourself scrambling the day of.
Decide on the schedule: If your company will be posting from the floor or competition arena, know what topic(s) and frequency you'll be posting at. And be conscious of your audience! If you normally talk to 80% consumers & mostly about what coffee you're brewing, don't overwhelm them with 20 IG stories & 10 Facebook posts in three days. Instead, opt for a summary post.
I highly recommend the digital marketing planning to start *now*. If you're an exhibitor, I'm sure it started months ago. Best of luck in your planning!

Quick text updates & links on what's new on the networks
Instagram announced a "Checkout" feature (closed beta) for brands. You'll be able to shop & checkout all in Instagram plus receive notifications for shipments. It's also testing a new Stories format (screenshots through the link) and new sorting options for followers. The app added a new "Pause All" notification setting!
Facebook added quoted message replies in Messenger.
Twitter updated its third-party usage limits. This could have a direct impact on you if you use a software to manage Twitter. It also announced a new in-app camera (swipe left). If you like looking at prototypes, screenshots of Twitter's revamped app are now available. And finally, it launched a podcast on advertising stories for their platform.

Helpful links on how to improve your digital marketing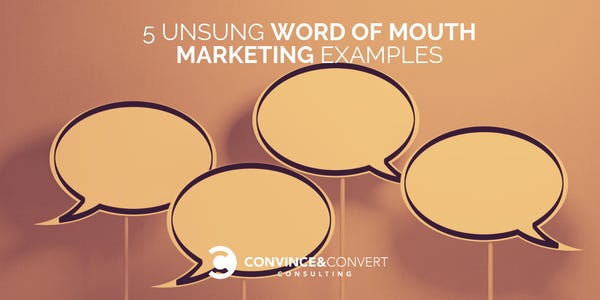 5 Unsung Word of Mouth Marketing Examples
Word of mouth marketing is more important than ever. Here are five case studies and examples you've never seen, from Jay Baer.
www.convinceandconvert.com  •  Share
How to Improve Customer Journey on Instagram: Part 2
This piece details what to do for a seamless customer experience on Instagram.
Facebook Relevance Score is Dead. Here's What You Need to Care About Now
The Facebook Relevance Score is no more. Now ad relevance is graded on three factors: 1.) Quality ranking, 2.) Engagement rate ranking, 3.) Conversion rate ranking.

Anything I've enjoyed reading recently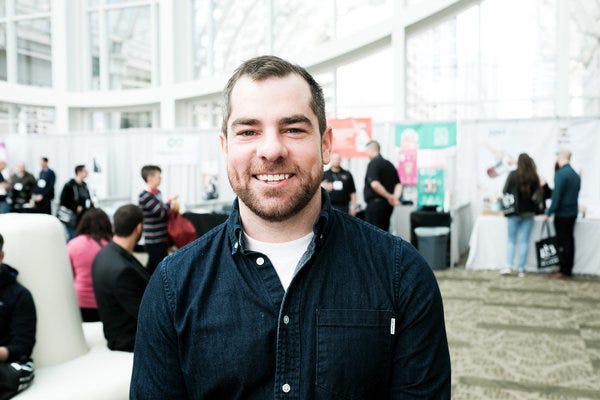 Coffee Design Communications & Behind the Scenes of the World Specialty-Coffee Map | Q & A with Andy Reiland, Creative Director at Cafe Imports
To keep things honest, I always ask myself, "Does it reach the consumer or is it just contributing to noise inside the industry?"
www.thelittleblackcoffeecup.com  •  Share
A belief in meritocracy is not only false: it's bad for you
"That is why, under the assumption of meritocracy, the very notion that personal success is the result of 'luck' can be insulting. To acknowledge the influence of external factors seems to downplay or deny the existence of individual merit."
What does sponsorship look like?
This is written in the context of tech, but can be applied to coffee. "What members of underrepresented groups in tech often need most is opportunity and visibility, not advice. They have to work extremely hard and be extremely good at what they do to combat the systemic privilege and unconscious bias at play in our work environments."

An update from my container garden!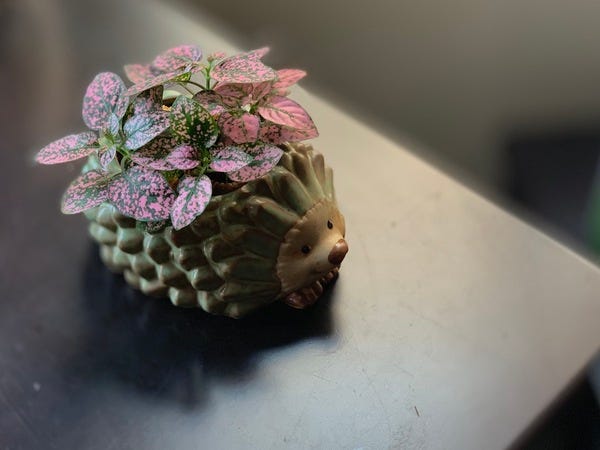 My new polka dot plant is very happy in its hedgehog planter.

If you'd like to work together on writing, photography, or marketing consulting, click through above.
What'd you think?
Feedback, questions, or fist bumps 👊 – send them my way by hitting the reply button. Also happy with the 👍 at the end. Or find me on the social networks @thejennchen. 
By Jenn Chen
This newsletter has now moved to thejennchen.substack.com - please sign up there!
💭 Thoughts on digital marketing as they intersect at specialty coffee, social media, writing, photography & social issues.
📬 2x a month on Wednesdays
🔗 @thejennchen | https://jennchen.com
In order to unsubscribe, click here.
If you were forwarded this newsletter and you like it, you can subscribe here.
Powered by Revue